As reported by media across the globe, earlier today a ship carrying aid to Gaza was attacked by Israeli forces.
In such situations, the circumstances are rarely completely clear to bystanders, and much information is somehow biased in one or the other direction. It seems, though, that most news media agree, that the attack is indeed an unjust measure beyond proportions. This is also backed by Al Jazeera footage from the ship (which, course, is by no means unbiased):

From my perspective, this looks like an unjust assault, yet I don't want to pass a verdict here.
What I do want, however, is to look at the way this incident is covered as a news story. I already referred to news organisations like BBC, and the newer (and perhaps more controversial) Al Jazeera. Both are drawing heavily on the internet, their own websites, services like YouTube, but remain somewhat traditional.
Simultaneously, quite another approach is being put into practice. Thousands of people are actively commenting on the events, many of them infuriated and shocked. All of this, of course, is happening on Twitter, right now, as people are microblogging in realtime. At a relatively early stage, those condemning the attacks (which seems to be everyone), rallied around the hashtag #freedomflotilla (for those not accustomed to Twitter, the hashtags is a way to group messages from different people, who all comment or discuss the same topic – here, the attack on the ship – read more at Mashable):
[iframe http://visibletweets.com/#query=%23freedomflotilla&animation=2 500 400]
We have seen this several times before when important events occur; the earthquake on Haiti, the Icelandic volcanic ash, the election in Iran. As such, this new incident is not breaking news, but serves to further promote the importance of citizen journalism, where "ordinary" people are participating with their opinions and knowledge about current affairs.
I am not completely certain what these tendencies mean to the dynamics and inner workings of news circulation. I suppose few people are, as Twitter remains a relatively new phenomenon. Twitter has several times been heralded as an important support for universal freedom of speech, and the service certainly does allow everybody to share their perspectives. This does not mean, on the other hand, that everybody actually has something relevant and important to share; we probably need journalists and editors cutting down on the buzz, as most of us simply doesn't have the time or skills required to see the big picture in the chaotic Twitter-streams.
One research project asked the question "What is Twitter, a Social Network or a News Media?", arguing that Twitter shares traits with other news media: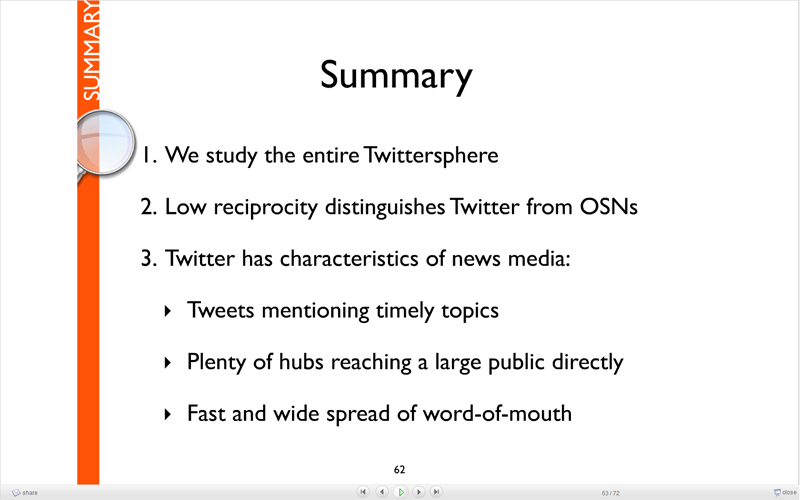 This piece of research show how tweets (messages) are distributed as people are retweeting (sharing) them, and thus spreading information across the network. Social networks researcher danah boyd maintains a list of research on microblogging and twitter, which offers current insights on the nature of Twitter, and how the service is used.
Despite the young and dynamic nature of this field, I would surely encourage teachers in relevant subjects (e.g. social sciences, communication etc.) to take a closer look at Twitter, and how the service is used to cover, support and/or condemn current events. It is not a way to get a firm grasp of "wie es eigentlich gewesen", but it is an interesting way to trace reactions, and see the possible implications of real-time microblogging. One approach could be to let students write a news story based on Twitter's trending topics, and another could be to let students themselves participate in the exchanges on Twitter.
Possibilities are abundant!