Many people lament the current state of the games being developed:
"There's too many games, that are not really games."
"Games are too easy today."
To me, none of this is a problem. It simply goes to show that there's an increasing diversity in the games being made and the people playing them.
This is a good thing. In fact, I've already written about my love for diversity in games:
All of this is to say, that if you think the term "game" refers to a homogenous field, you should probably look a bit closer.
Games are not just about shooting or sneaking or walking or jumping or solving puzzles or driving cars or even overcoming challenges.
Games can make us smile and laugh, they can make us feel fear or hope, they can make us feel small or invincible, they can make us question what we take for granted or they can, when they're really good, make us think about what it means to be human.
Games are simply experiences, that can be about anything, that can come in any shape and size, and if we prove unable to ever come up with one label, that catches what all games has in common, that's not a problem at all.
No, it's actually a testament to why I love games in the first place.
Now I just finished Monument Valley, and it made me think again about some of these discussions.
Shaun Musgrave wrote about this in his review over at Touch Arcade:
There are games that lean more on giving you interesting play mechanics and challenging you to master them in order to overcome some sort of challenge, and there are games that lean more on the side of giving you an experience. You get rare cases where the line is straddled fairly evenly, but for the most part, games are going to do one of those things very well and give less attention to the other. Both types have their fans, and many gamers love both, but when a game comes along that strongly favors one type and does it well, you often see confusion from the opposite camp. I say this because even though I expect it to get a lot of well-deserved praise, a lot of people aren't going to like Monument Valley very much.
Monument Valley is a fairly short game, and while there's definitely more game-like features (e.g. challenges & puzzles) in MV than, say, Dear Esther, a huge part of my fascination still has to do with "just being there".
The first thing that struck me was how absolutely gorgeous the game is, and how the combination of aesthetics create an atmosphere so dense, that sometimes I just stopped playing altogether to take it all in.
The game is clearly inspired by M. C. Escher, and works like the impossible stairs of "Relativity":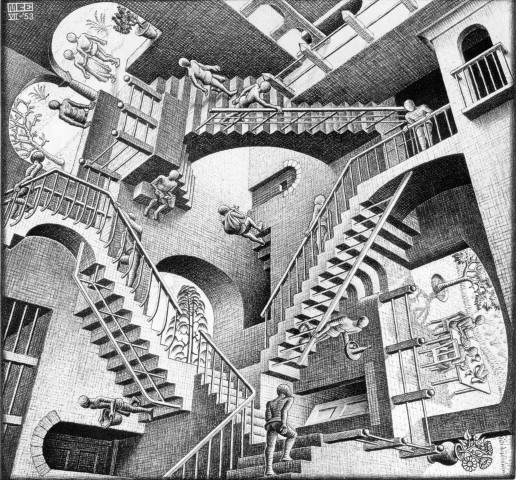 Ken Wong, designer of MV, talks a bit more about sources of inspiration:
"Escher is just an easy way to explain the game to people, there are so many other bits and pieces that inspire the game. Windowsill, a game by Vectorpark was a big influence. We talk about Fez, Portal, Sword & Sworcery and Ico a lot too. The aesthetics of the game have been informed by everything from bonsai plants and poster design, to arabic calligraphy and Tarsem's film The Fall."
With a direct connection to Escher, the primary challenge in MV lies in figuring out the quirky and impossible (but very consistent) spatial logic. Most levels are very straightforward, but an occasional one had me experimenting for a bit before moving forward.
Sometimes, solving the puzzles sent me straight back to just absorbing the atmosphere, watching how the turn of a lever made the world change in beautiful ways.
As a whole, Monument Valley may not be the most gamey or challenging of games, but who cares?
Well, many people do, and that's just fine.
This game or any game can't be all things to all people at all times. To me, it was simply a wonderful, condensed and completely captivating experience of exploring a beautiful universe with an intriguing spatiality.