The first edition of CounterPlay is over, and while there's definitely lots to change & improve, I'm generally extremely happy about the way it turned out (read more about it here).
Now it feels like I'm in a big hole.
After #CounterPlay14, I'm now, all of a sudden, completely broken, tired, in doubt, don't know what to do, where to go.

— Mathias Poulsen (@mathiaspoulsen) April 9, 2014
A part of this is surely just me being really, really tired.
Exhausted, to be honest.
That's to be expected, as organising the festival was pretty intense. I should take some days off, and with Easter coming up, that's happening soon.
Another part is probably just a completely natural void in the wake of a big project.
Even so, there's this gnawing feeling that I should make a full stop and think about the way I work & live. I'm constantly thinking about these things, but for some reason, now feels like a particularly good time to do so.

What am I concerned about?
Days like this, I'm thinking I should create more steady work for myself. I love the unpredictability, but it can be tough.

— Mathias Poulsen (@mathiaspoulsen) April 9, 2014
I may just be tired, or I may have a point. I should probably consider creating 1-2 more steady projects for a bit of predictability.

— Mathias Poulsen (@mathiaspoulsen) April 9, 2014
There's a lot of dilemmas in this.
On one hand, I'm SO excited about the festival & the many other great things going on. I'm invited into so many wonderful projects!

— Mathias Poulsen (@mathiaspoulsen) April 9, 2014
On the other hand, most of it is shorter stuff. They all move me forward, but maybe it's too scattered. I'd like to create more continuity.

— Mathias Poulsen (@mathiaspoulsen) April 9, 2014
I'm doing so many things all the time (and constantly  tweeting about it), that, to any bystander, it probably seems like I'm doing absolutely fine.
In a way, everything IS just perfect. I love the freedom, the chaos, I love the things I do and the people I'm involved with, and I like to think, that I am actually moving perceptions and people.
I'm, plain and simple, happy with what I do.
I'm not exactly a person who cares much about money or business'y things in general. This is obviously a huge disadvantage, when you're self-employed. My priority is always to A) do something that's fun & challenging while B) hopefully making the world just a tiny bit better, more humane and playful. Money is not a part of this equation – except that they are, of course.
Ever since I started, 5-6 years ago, I've been involved in a broad range of activities. A lot of it has been related to games and digital media in education, but I've also been working with "games as culture", and I've been doing a few projects on games & playfulness in companies & organisations. I've been doing many consulting jobs, a lot of talks at conferences and seminars, a lot of workshops, courses for teachers, a huge pile of writing and experimental projects. I have been part of creating multiple initiatives & events for knowledge sharing and networking (#skolechat, EdCamp Denmark, Spil i skolen).
Oh, and of course CounterPlay, that got me thinking about the importance of meaningful events in bringing people together.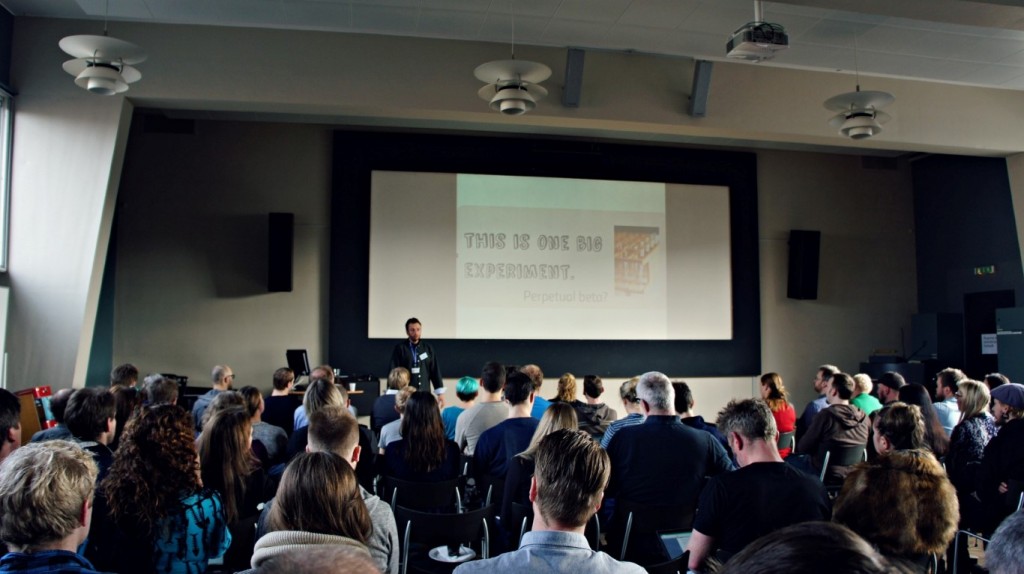 All of it has been revolving around changing the perception of when & how playing can be meaningful and valuable.
Moving forward, I hope to follow my own lead from CounterPlay, exploring playfulness & games in projects and events across domains (e.g. culture, learning, business) as well as playing with and without purpose. I want to create more meaningful learning experiences for people in education, but I also want to encourage simply playing (also see this post on "my playful dreams with games")
So my immediate challenge is this:
I couldn't see myself in like a regular job, but I'd like to create something with a bit of long-term continuity, stability, y'know.

— Mathias Poulsen (@mathiaspoulsen) April 9, 2014
I'm hoping #CounterPlay14 can turn into 1 such more stable project, but I'll probably need 1-2 more. I'll start thinking 🙂

— Mathias Poulsen (@mathiaspoulsen) April 9, 2014
The perfect situation would probably be one, where I have 1-2 steady projects, while still leaving enough time and space to launch new initiatives as I see fit.
As with everything I do, I'd love to have conversations about these things. I've only been able to be working on so many amazing things because of the people I've met over the years, and I'll only keep moving forward because of people.
A cup of coffee, a beer, a phone call, a hangout.
Anything goes.
I'm basically open to anything, that's about exploring playful approaches to meaningful experiences for people.

— Mathias Poulsen (@mathiaspoulsen) April 9, 2014