As I announced on Twitter earlier today, I'm currently working on a conference to conclude the GAMEiT-Project in a way, which mirrors the overarching purpose of the project – to explore the field of game based based learning (in practice) and to share all relevant knowledge found along the way.
The conference is being held in conference facilities at Park Inn Copenhagen Airport Hotel the 13th October 2011. The hotel is very easily accessible no matter where you're coming from.
So far, so good (literally and figuratively).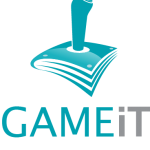 Being the one responsible for planning, coordinating and executing the conference (with help, of course), I'm thus likely to leave my usual mark of openness and transparency on both the process of planning and the conference itself. I'll attempt to include external partners, announce everything on Twitter (with #gameitconf), and invite inspirational people to introduce projects.
We'll have a number of keynote speakers (to be announced soon), who will represent some of the most interesting developments in the use of games in education.
Another important component is an open "call for posters". Again, in accordance with the ambitions of the project, the purpose is to support a more inclusive approach to knowledge-sharing. We want to create at the conference a platform for (primarily) practitioners to tell about the amazing game-related project, they have just carried out. Let me know, if you have done something interesting with games in education, and would like to share it with all of us at the conference (ca. 10-15 minutes).
In conclusion, we'll introduce the most important findings from our own project; either as a concluding panel or a serie of short talks. In the project, we develop a handbook, which will be available in print for the participants, of course.
Overall schedule will look something like this:
| | |
| --- | --- |
| 9.00-9.30 | Arrival, registration & coffee |
| 9.30-9.40 | Welcome – by GAMEit |
| 9.40-10.40 | Keynote 1 |
| | |
| 10.45-11.30 | Keynote 2 |
| 11.30-12.30 | LUNCH (+ perhaps a minor exhibition by developers etc.) |
| 12.30-13.00 | Mathias Poulsen with students |
| 13.00-13.50 | External contributors (along the lines of Teachmeet and similar initiatives) |
| 13.50-14.30 | Keynote 3 |
| 14.30-15.00: | Panel/Q&A |
Pricing is not completely in place, yet count on something around 1000,- DKK (130 €) everything included.
Follow the progress and announcements here, on Twitter, contact me for more information (which will be available soon), if you want to suggest yourself or others as speakers, or if you have any kind of questions.
Oh, and the conference will be in English.
We are looking very much forward to welcoming you!